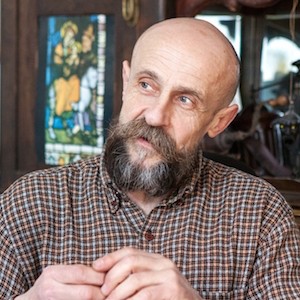 Artist about himself:
The wall, or more precisely, a niche in the wall became a metaphor. Everyone finds his own niche - sometimes dirty, stinking, but his own. And here the contrast appears between the absolute of routine and infinity, space. I have been looking for some form that would reflect my perception of the world for a long time. And the first picture, where I displayed my attitude, was created in 1982. I called it "The Wall". The wall, or more precisely, the niches in the wall allowed me to do it.<br>
Artist's CV
1955 / Glebov Minsk State Art College (1974) / Member of the Belarusian Union of Artists, Member of the Association of Polish Artists/ solo exhibitions in Brest, Poland, Holland / the works belong to the museums and galleries of Minsk, Brest and private collections of the CIS countries, Europe and the United States of America.